Letter to a friend
Dear Wolfgang, I received a letter from a good friend the other day requesting that I write something on masculinity. The man that I am I immediately responded in the affirmative. Yet when I read the letter further he mentioned a second aspect to the composition: hair. Now usually I have no problem with pelts, curls, ringlets or manes, nor even a shock of hair, but the thought of composing something around this did strike me as difficult. I eventually resolved myself to the idea and chose a somewhat strange way to approach the subject matter. I would write partially by way of prose and partially by way of poetry—or simply an experimental form of prose. What follows was and is the letter that I enclosed to my good friend and that I sent with well wishes to Berlin in the hope that these reflections, musings and absurdities find him and his well. I also requested that he send me a confirmation of receipt and that the form in which I composed the following be kept. I felt it necessary if only to express the incoherence of my gendered being and that my sexuality wavers between two great abysses. That it essentially is this wavering and incoherence. Anyway, with those and these last reflections I closed and close my initial preamble. I put the letter, this letter, in an envelope and sealed it with kisses and sent it to my Happy Berlin and all who are there with my well wishes!
Letter to a friend, 2013, N. Boyd, sound 4'5 min
Formel: H2O2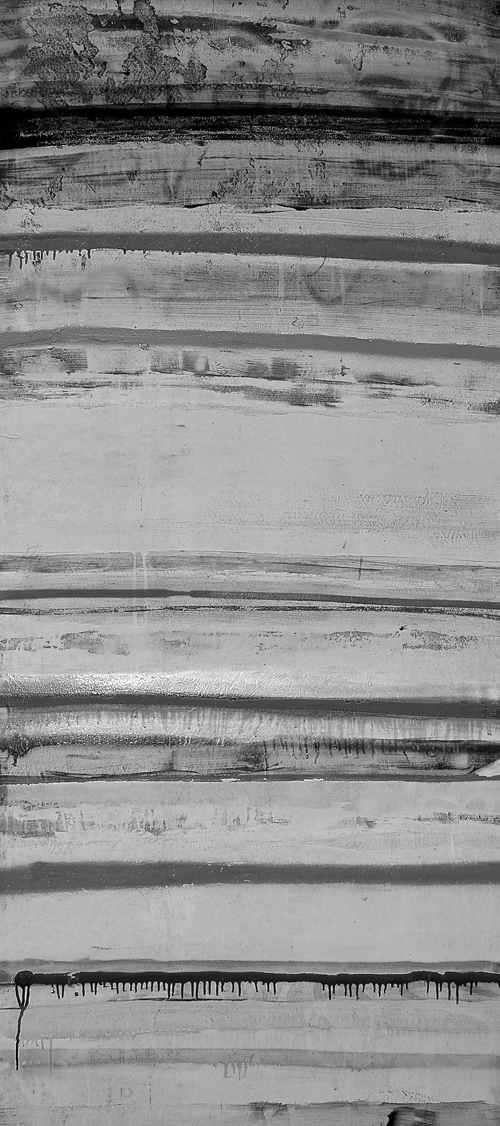 40% der erwachsenen Frauen in den Industrieländern nutzen Haarfärbemittel. Was ist die eigentliche Arbeit? Materialien aus dem Friseurhandwerk (Wasserstoffperoxid) – unvorhersehbares geschieht. Wolfgang Fütterer taucht ab in die Welt des "ihm Unbekannten". Zusammen mit Alexander Peikert lässt er sich an der Hand führen. Peikert hantiert mit Blondier-, Färbe- und Oxydationsmitteln. Keine Grenzen! Durchs "Unbekannte" und "Vertraute" führt die Arbeit… Durch das Wechselspiel beider Protagonisten ensteht so langsam ein Prozess dessen "Ende" unendlich scheint…
Formel: H2O2, since 2013, ongoing project, variable sizes, together with Alexander Peikert
Autobronze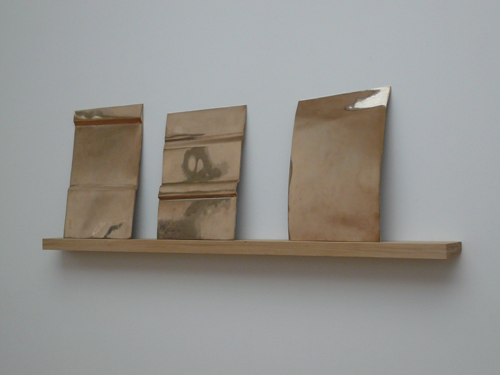 Autobronze, 2010, bronze, 40×54 cm (3 of 5)
Wolfgang F. II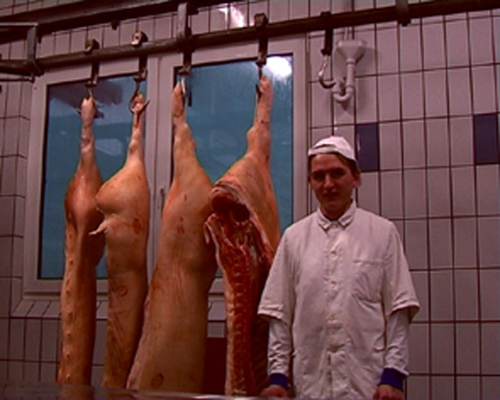 In seiner Arbeit, "Wolfgang Fütterer II" (2009), dreht Fütterer die Perspektive der Betrachtung um indem er acht Personen bittet seinen nackten Körper zu beschreiben: er macht sich zum Objekt der Beschreibung Anderer. Das Bild, das sich der Rezipient des Videos von Fütterers Körper machen kann, basiert ausschließlich auf den subjektiven Beschreibungen der ausgewählten Individuen. Der Beschreibende ist in seiner jeweiligen Umgebung zu sehen. Durch den Blick der Beschreibenden kann man schließen, dass Fütterer vor ihnen steht. Von der Kamera wird er jedoch nicht erfasst. Die Art der Beschreibung sowie die Wortwahl charakterisieren vielmehr die jeweils beschreibende Person, als den zu Beschreibenden. Die im Video den Abwesenden portraitierenden werden selbst zu Portraitierten.
Wolfgang F.II, 2008, video 7'50 min
Curved wall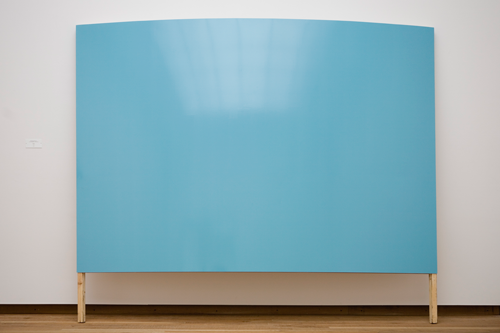 Curved wall, 2011, wood, MDF, car finish, variable dimension
Shame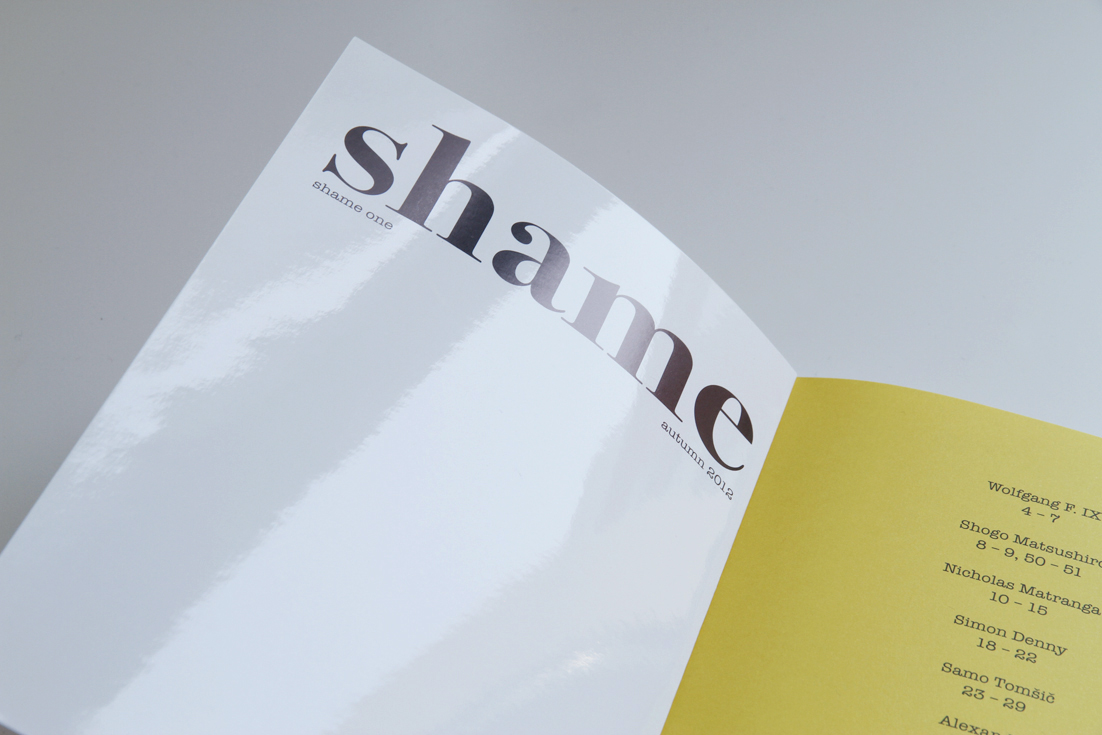 Shame is a recurring thing

Shame is based on contributions from artists, philosophers, critics, strainghers etc. Shame observed researches and highlights specific issues such as human feelings, the human body and their perceptions, and other daily issues that in generel get almost no attention, but accompanied our daily live. Shame goes to limits and can be uncomfortable and embarrassing. Shame opens an other layer of appearance which is not so visible.

« Perhaps, you as a reader might even feel ashamed on behalf of them? To be sure, this magazine is as
much about you as about them. It is the presence of your scrutinizing
gaze, dear reader, that makes shame/'Shame' come into being. And it
is only because of you that something as banal as pubic hair becomes
the ultimate signifier of shame. » Jenny Nachtigall
With contributions by Nathaniel Boyd, Simon Denny, Wolfgang Fütterer/Nicholas Matranga, Shogo Matsushiro, Alexander, Recontom, Hinrich Sachs, Samo Tomsic and Jenny Nachtigall; edited by Neda Firfova and Wolfgang Fütterer; designed by Neda Firfova; published by Jan van Eyck Academie, Maastricht (NL)
Mein letzter Kunde.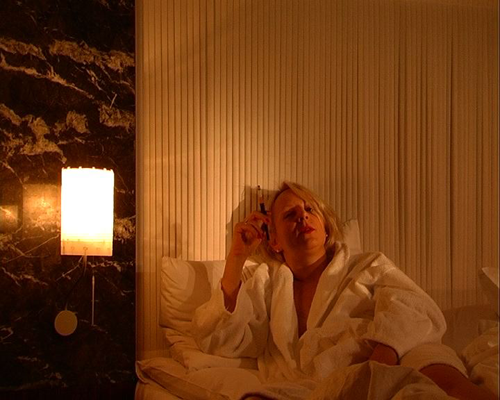 Ziemlich klein, so ca. 1,60 m groß. Ich weiß gar nicht wie alt er ist. Ich glaube Anfangs 40, er arbeitet in einer großen Baufirma und fährt so ein riesen Gefährt. Ich glaube er ist Bauarbeiter und in seiner Freizeit fährt er Motorrad. Er hat keine Frau, ein ganz lieber Kerl wirklich sehr nett, ganz lieb und intelligent aber eben sehr klein eben und das ist eben ja das lustige, denn wenn der Arm bis da drin steckt und er ist eben nur 1,60 oder so.
Er will nichts anderes, außer das man mit Tierarzthandschuhen versucht, meinen Arm so weit wie möglich bei Ihm hinten rein zuschieben, was tatsächlich eine harte Überwindung ist, weil bis da passt der Arm auch rein. Das sind so Sachen wo ich sagen muss, da muss ich mich... mh na ja da muss ich schon sagen....

Aber er zahlt nicht schlecht und er ist nur 20min hier und dafür gibt's 300 Euro, aber es ist schon hart und es ist einer der Männer wo ich hinterher auch denke ugh igit.

Er ist aber total sauber, da gibt's keine Scheiße und kein gar nichts. Trotzdem es ist ein widerliches Gefühl, da ich auch keine kleine Hände habe und wenn ich wirklich bis hier hinten im Arsch drin stecke, denn da musst du dich erstmals durchwinden und es fühlt sich sehr komisch an, wenn du merkst du kommst an den Knochen vorbei und das ist schon bisschen ekelhaft. Am Ende soll ich mich dann ausziehen und dann, total absurd, soll ich meinen Bizeps anspannen dann guckt er sich den immer an und wichst sich selber den Schwanz.

Wenn ich mit meinem Arm bei Ihm hinten drin stecke, da hat er auch keine Latte. Er benutzt auch immer Popas, das ist so ein Fläschchen, da schnüffelt er daran. Ich weiß auch nicht, da ich auch kein Mann bin, wie dieses Gefühl zu beschreiben ist, aber ich frag dann auch immer so.

Der Mann hat eine Prostata und da gibt's auch so kleine Tricks, z. B. wenn ein stock besoffener Freier kommt und der kann nicht spritzen und da kann man z. B. mit ganz viel Öl und zieh dir einen Handschuh an und sag du machst eine Ölmassage, die meisten merkten dass dann auch gar nicht, d.h. mit einen Finger gehst du hinten rein und drückst auf die Prostata und dann müssen sie spritzen und es funktioniert auch.

Aber bei solchen riesen Dildo Geschichten, da geht es einfach nur um Analdehnung und Grenzen zu überschreiten. Solche Typen sind gar nicht so sehr daran interessiert zu spritzen, zu wichsen, nur so am Ende mal, aber ich sag mal so 95 Prozent von der Zeit ist der Schwanz völlig nebensächlich, dass ist am Ende noch mal der runde Abschluss, da wichsen Sie selber einen und dass war es.
Mein letzter Kunde, since 2010, ongoing project
Belly dance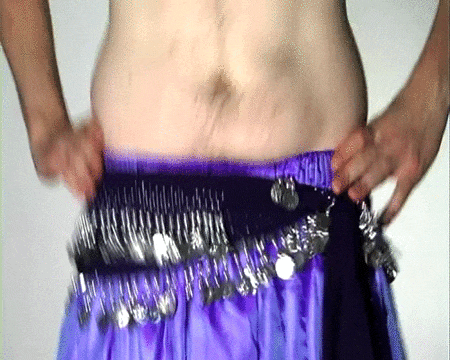 as a men with an "average" belly I asked my self what can I do with it to work on it. So I learned belly dance..
Belly Dance, 2008, video 2'32 min
Carrefour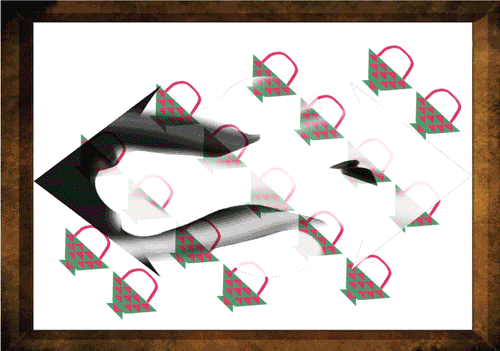 (group show with Nicholas Matranga, Karl Larsson and Caroline Pekle)

ing
shopp in
no win
for look
out
side or au
on street
audience

the boundaries between
no inside
for reading
display
no video
is shopping
or performing
shopp
forming
read
play
colors
black
on a stage

an object
as an object
as a object

photo
read
performance as non existing
talk object
the blue
careful
break
ok

a wall
can hang
the window
outside
inside and out

drinks allowed
food smoke low
all talk
Just a hero for one day, 2013, videoloop
Echthaar Teppich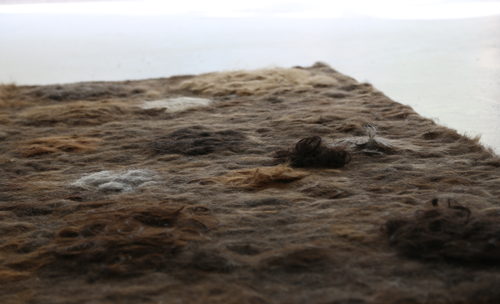 Echthaar Teppich, 2013, hair, coco mat, 200×100 cm, together with Neda Firfova
Wolfgang F. I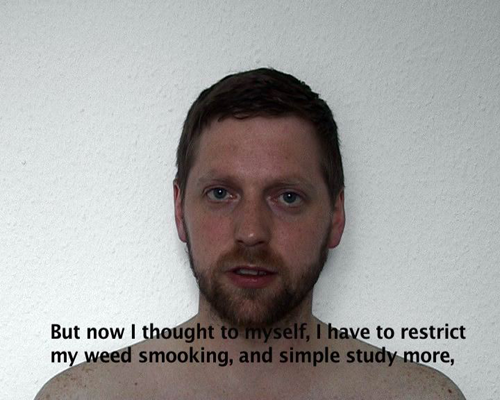 In seinen Videoarbeiten schlüpft Wolfgang Fütterer in verschiedene Rollen, um den Betrachter die Geschichte einer jeweils fiktiven Biographie zu erzählen. Mit der Arbeit "Wolfgang F." konstruiert der Künstler aus den Lebensläufen seiner gleichaltrigen Freunden, Arbeitskollegen und Kommilitonen eine Typologie seiner eigenen biographischen Identität. Das Video zeigt Fütterer, wie er mit starrem Blick die Kamera fixiert und dabei die Eigenschaften, Merkmale und Probleme von 12 fiktionalen Individuen aufzählt. Was schlicht und harmlos anfängt, bekommt mehr und mehr Risse und Brüche in der wortreich vermittelten Oberfläche der Person. In gleich bleibenden Tonfall berichtet diese von bestimmtensexuellen Vorlieben, Lebensentscheidungen, Vorkommnissen und Erlebnissen, die den Zuhörer fesseln, schockieren, emotional berühren und ihn in die Rolle eines Voyeurs drängen, der Unversehens zum Zeugen eines erzählten Lebensschicksals wird.
Wolfgang F. I, 2007, video 28 min (3 flat screen)
Love handles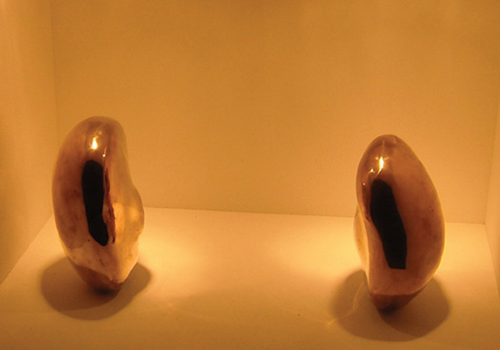 In "love handles" erfolgt die Extrahierung des Körperlichen. Das so genannte Hüftgold Fütterers liegt als Objekt in Bronze gegossen vor: zwei glänzende Objekte stehen einander gegenüber und machen ein Dazwischen deutlich, die Abwesenheit des Körpers.
Love handles, 2008, bronze, 18×19×11 cm and 17×19, 5×11,5 cm
Poems, posted its...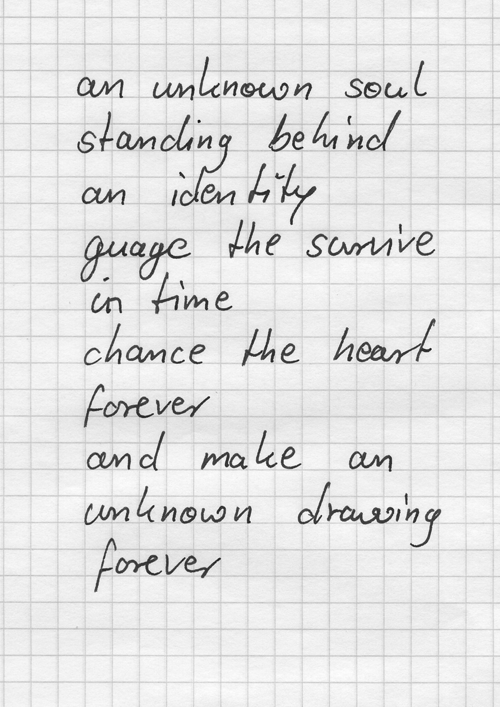 an ongoing project. In my daily practise I collecting words, senctence and fragments to create new text fragments, poems, posted its.
No title (poster), 2010, digital print, DIN A0
Henry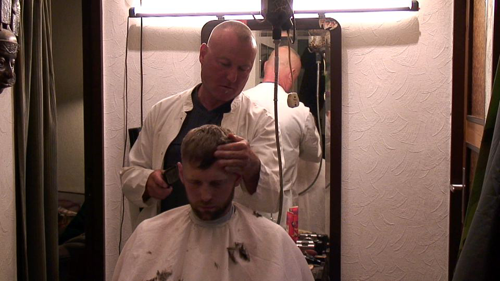 Schonungslos macht sich Wolfgang Fütterer zum Objekt der Betrachtung und hinterfragt auf eine kritisch-humorvolle Weise die Identität des Menschen. Mit seiner direkten, dokumentarischen Arbeitsweise schafft er eine Inszenierung des Persönlichen, die berührt, ohne Privat zu sein.
Henry, 2012, video 56 min
A secret show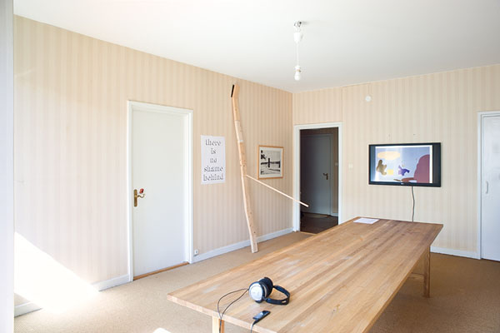 a secret show (a real allegory of a seven year phase of my artistic (and moral) life); an exhibition with: Simon Denny, Wolfgang Fütterer, J. O. Mallander, Nicholas Matranga, Nanna Nordström, Max Olofsson, Hinrich Sachs, Sigrid Sandström.
Letter to a friend, 2013, sound 4'5 min, text by Nathaniel Boyd; No title (poster), 2013, digital print, DIN A1
...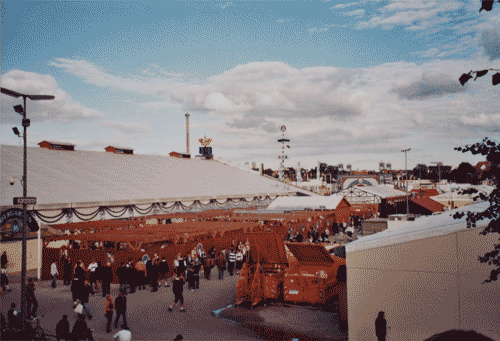 Looking for Achternbusch. We made a long journey to Oktoberfest 2010. After some beers and a night in Munich we ended up in Pilsen (CZ).
No title, 2010, postcard, beer mug, engraving, together with Nicholas Matranga